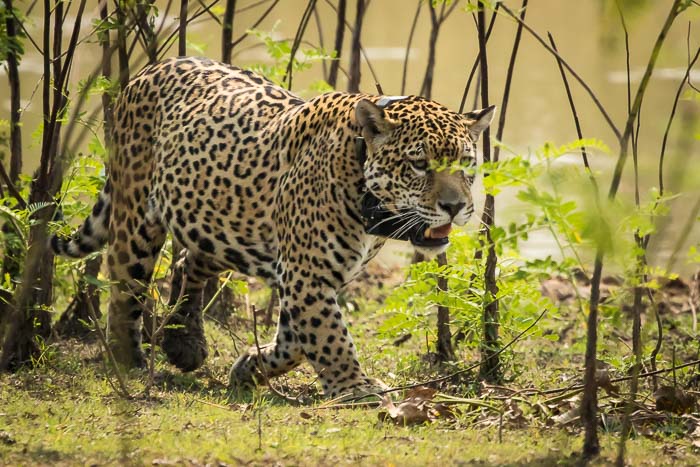 People sometimes ask me where they should go to view wildlife. That rather depends on what they want to see! Most of us think of the Big 5 and that's certainly a great place to start. Many different destinations in Africa tick that box. But what next? In the last few years I've been lucky enough to see orangutans in Borneo, lemurs in Madagascar, bears in Canada and those truly amazing polar bears (and walruses) up in the Arctic. So, how would a trip to the Brazilian Pantanal stack up? Would we see jaguars?  
The Pantanal is vast, stretching over 24,000 sq km, mostly in Brazil and crossing into Bolivia and Paraguay. It is the World's largest tropical wetland with around 80% of it flooding in the wet season (November to April). We went in the dry season (in September) when it's easier to travel around spotting the animals across the wide-open plains. But, it was very hot, often reaching 40 degrees.
We saw a wide range of animals, very different from those seen on other trips. Some, such as the jaguar, ocelot and otter can be elusive: seeing them cannot be guaranteed. In contrast, the capybara (the world's largest rodent) and the caiman (cousins of the crocodile) were ever- present.  Not long ago caiman were under pressure due to a massive demand for their skins; that trade is now illegal so it was good to see so many of them.
Other sightings included tapir, giant anteaters, racoons and coatis, various deer, both the 6 banded and 9 banded armadillo, and lots of cattle.
The Pantanal is also noted for its extraordinary range of birds. They have some exotic names such as the aracari, the caracara, and the constantly cackling chacalaca. Standing out above all these – literally – was the very tall Jabiru stork.
I'm used to seeing wild animals in national parks, separate reserves and dedicated sanctuaries. In contrast, much of the Pantanal is privately owned and it is common to stay on working ranches and family-run eco-lodges. Finding these animals on familiar farmlands rather than in a remote wilderness was a very different experience.
Araras Eco Lodge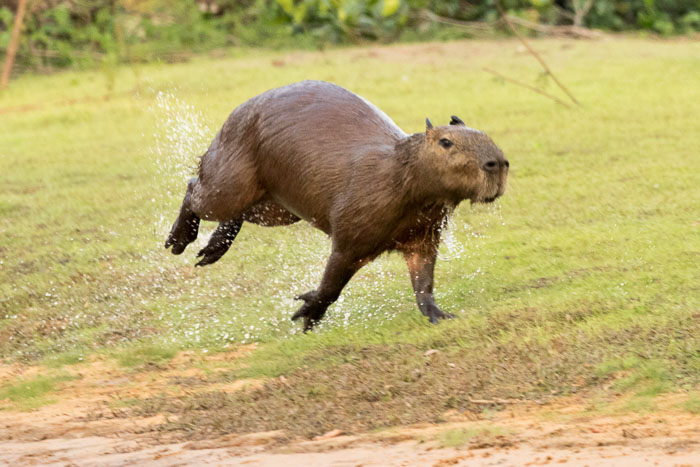 Our first stop was Araras Eco Lodge, in the Northern Pantanal.  Making the most of the observation towers, boardwalks and river trips, we quickly immersed ourselves in the wildlife. The capybara became a firm favourite of mine and the subject of many, many photos as they played in the water or simply sat and pondered – composing poems I'd like to think.
Araras supports the Pantanal's Hyacinth Macaw Project. In the 1980s these birds suffered massive loss from trafficking, hunting and deforestation.  The major project began in 1990 and now monitors around 3000 birds across nearly 400 natural nests and 250 artificial ones. The effort is paying is off and the Hyacinth Macaw population is doing well. 

Caiman Ecological Refuge
The Hyacinth Macaw Project is also supported by our next destination: The Caiman Ecological Refuge. The refuge is located within a 53,000-hectare ranch in the southern Pantanal. It is home to 35,000 head of cattle and a major jaguar conservation initiative: Projeto Onçafari.  Out of our three destinations, this was by far the most likely place for us to spot jaguars. We weren't disappointed.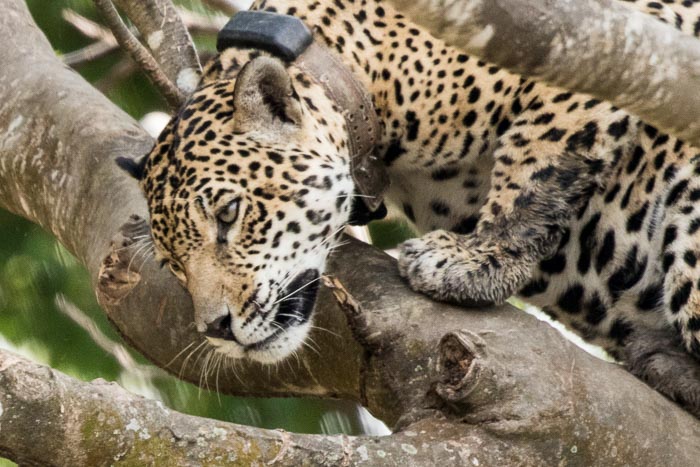 Projeto Onçafari
We spent a whole day with the Jaguar Habituation Team. It started with a presentation; education is a vital part of Projeto Onçafari's activities. We then saw how the team keeps watch over the jaguars: camera traps, tracking paw prints, locating kills and listening for VHF signals from those jaguars wearing special collars. The collars also keep an hourly record of the jaguar's position which is sent by GPS once a day to build a detailed map of their territory. In addition to keeping track of the jaguars, the team monitors their health and studies their way of life.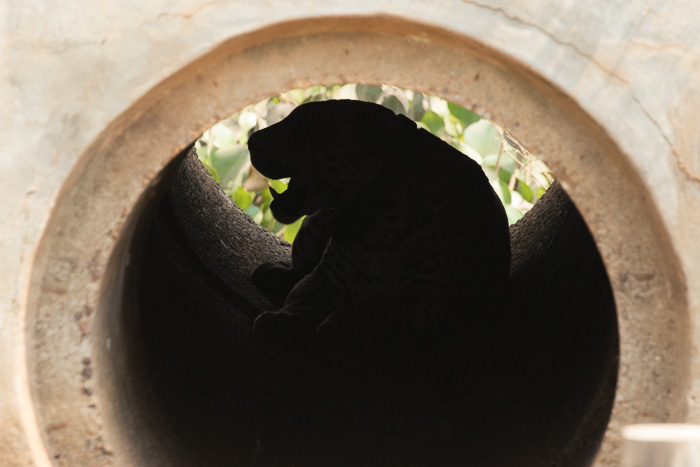 As part of their conservation effort, the team aims to habituate the jaguars so they aren't frightened of humans.  This brings a key benefit: tourists can see them from a safe distance. We had some exciting sightings of jaguars resting in a tree, walking by water and hiding in a pipe.  We spotted Isa and Fera, two jaguar sisters who had been rescued as cubs and gradually reintroduced into their natural habitat. They were the subject of a BBC programme last year and it was great to see both cubs now grown much bigger, habituated and happy.
It was fascinating to see the great work of Projeto Onçafari and meet Mario Haberfeld and the rest of the team. The next step is to apply these learnings to reintroduce jaguars in the Amazon. (You can find out more – and add your support – here.)
Jaguars were the highlight but again we saw lots of other animals and birds. For me a special moment was seeing ocelots, two nights running. They are truly beautiful, even if the photos are a bit blurred.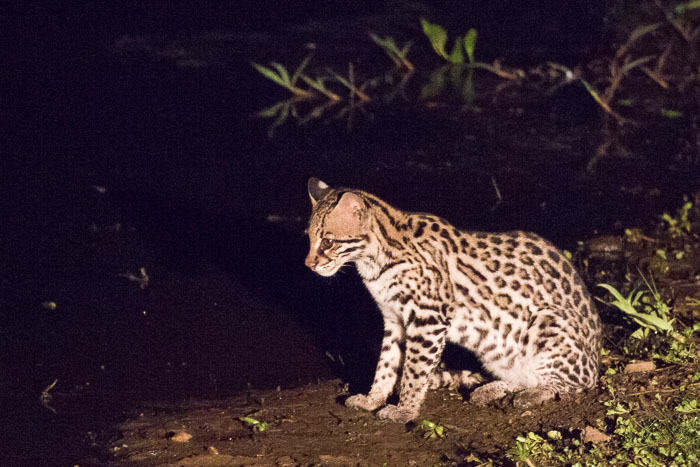 Barra Mansa
Our final stop was a smaller eco-lodge: Barra Mansa. As it's a 6 hr drive from the nearest town, Campo Grande, we flew. Travelling between all three destinations on small planes gave us some memorable views and underlined just how extensive the Pantanal is. And how many cattle there are.
Barra Mansa was once a cattle ranch and is still a working farm. It is both rustic and very welcoming. When we told our guide we had yet to see otters, he immediately arranged for us to spend lots of time on the river. It worked: we were soon being entertained by both river and giant otters.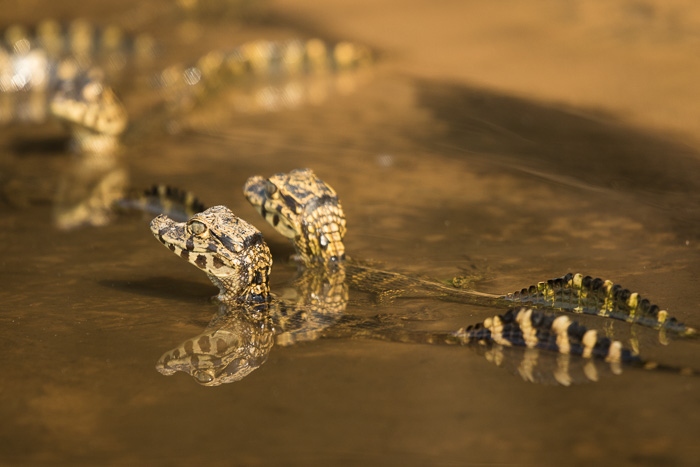 I love seeing wildlife from boats as it often leads to great photo ops. As well as the otters we caught up with a bunch of very young caiman being guarded, presumably, by mum.
We also caught sight of Jaribu storks flying by our side near the water's edge. For once  I had my camera at the right setting and captured the extraordinary sight of two of them colliding!
Changing views
Cattle farming has been at the heart of the Pantanal economy for generations. This has created a conflict between the locals and the wildlife.  Deforestation, hunting and poaching are major threats to many species. Jaguars are the enemy of the cattle ranchers and this puts them at risk.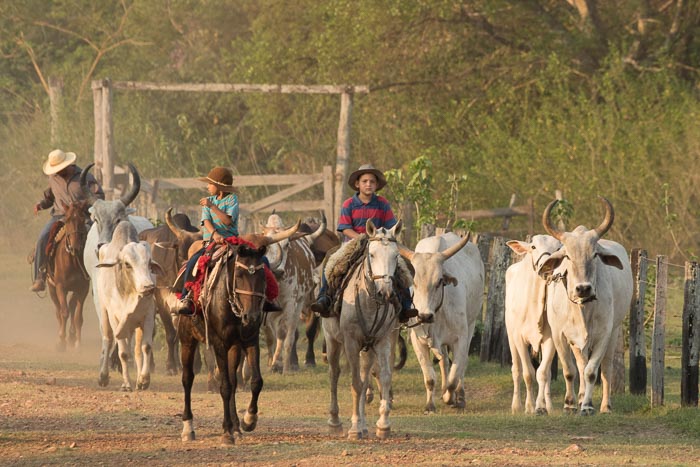 Conservationists point out that jaguars kill less than 1% of cattle on a ranch. Whilst a jaguar might be caught in the act of eating a cattle corpse, the chances are the animal was already dead when the jaguar found it.  Even so, farmers understandably want to minimise their losses. One way to stop jaguars eating cattle is to keep other wildlife alive by conserving areas of natural habitat.
Another approach is ecotourism. Attracting tourists to view – and endlessly photograph – wildlife is an important source of income.  If locals and landowners see the native species as 'Worth more alive' they are more likely to protect them.
Projeto Oncafari is a major conservation initiative and is helping get these messages across. The smaller eco-lodges are doing their bit too. All great stuff, but it won't happen overnight. One of our guides told us that he had grown up learning how to hunt and kill jaguars. His parents had never been on a plane and his father found the concept of tourists coming across the world to see wild animals hard to fathom. Respecting why these views are held, and bringing everyone on board, is a key part of these conservation initiatives. Equally important is our support.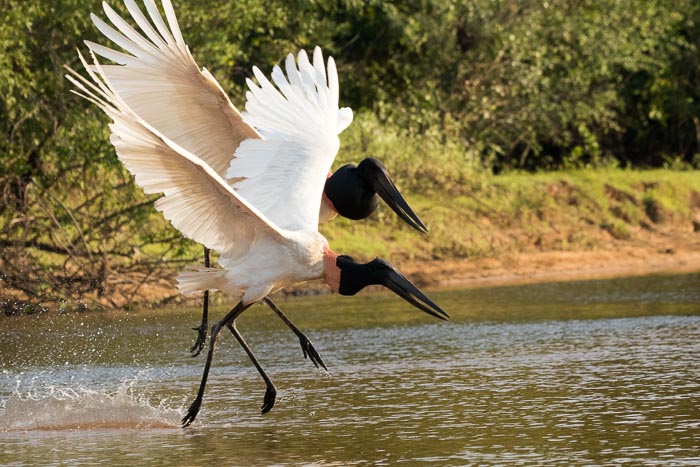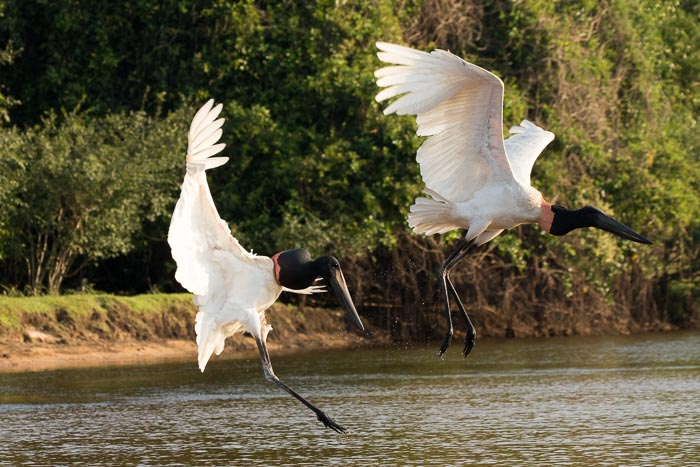 It was a great trip and I'd like to thank:
Katherine O'Donoghue at Imagine Travel for arranging everything
All the staff and guides at:
Jackie Rado for teaching me how to take better photos
My great pals and co-travellers Angie, Bernadette and Sue
Emma Griffiths (and team) for tending to my companion cat, Gus