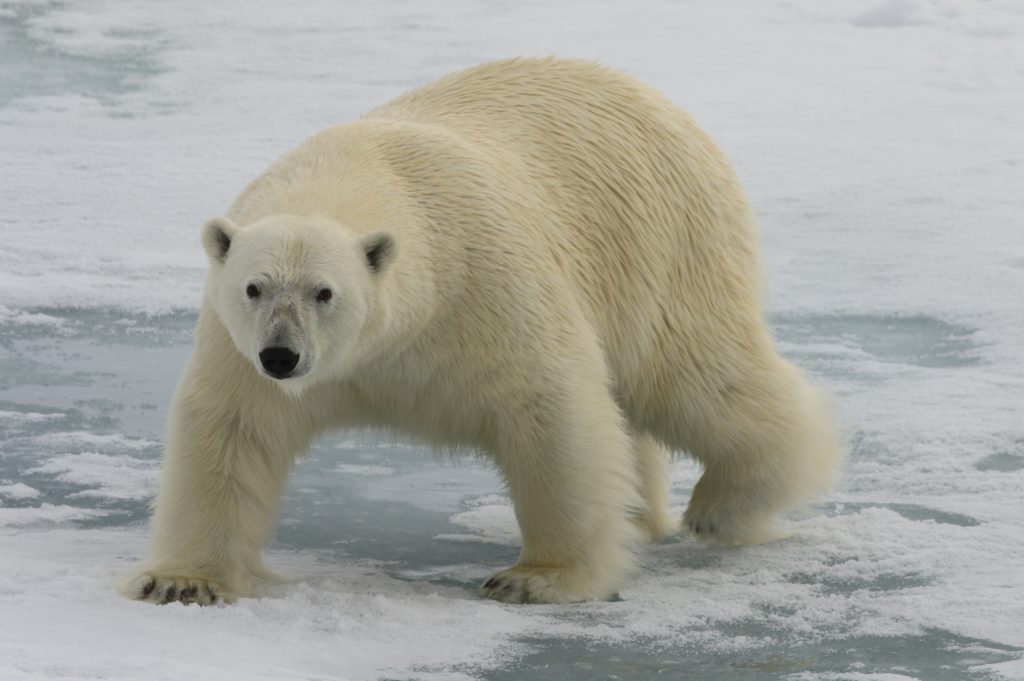 We stood on the deck scanning the horizon. The long lens on my camera was heavy but I didn't mind. I peered across the ice, willing it to come into view. Then I spotted it. A yellow blob. Yes, there! It was one of those moments I'll never forget. I said to myself, 'I'm actually here. In the Arctic. And I've just seen a polar bear.'
We were surrounded by ice and entirely alone. Except for the distant yellow blob. We were on the deck of the MS Stockholm, a small icebreaker perfectly suited to this task. A group of 12 of us, led by Andy Rouse, wildlife photographer extraordinaire, and expert guide Adam Rheborg. Following flights via Oslo we'd boarded the Stockholm in Longyearbyen the 'capital' of Svalbard on Wednesday 22 June 2016, and set off. It was now Friday morning.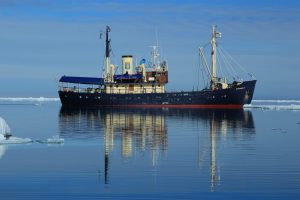 We'd spent Thursday travelling up the west coast of Svalbard, in relative calm, enjoying the scenery and getting used to being on board. In the afternoon we stopped in an inlet to take our first trip on a  zodiac inflatable, to enjoy sea-level views of the floating ice and get used to photographing in these conditions. Andy gave us some tips on composition, helped by a group of guillemots handily posing.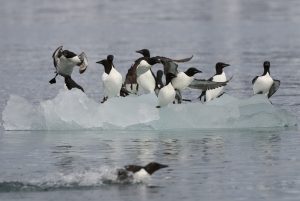 Exciting Encounters
Next stop: polar bears. But that wasn't guaranteed, as wildlife watching never is. The pack ice had receded further north than usual for the time of year, so we'd been warned that there was a chance we wouldn't reach it. But, luckily the open sea to the north of Svalbard wasn't too rough and our captain was happy to make the crossing. We'd headed north east to the points on the pack ice where the polar bears were most likely to be. After many hours searching, to everyone's relief, on that Friday morning we'd spotted our first polar bear.
Since leaving Longyearbyen we'd had no communication with the rest of the world. No mobile signal or wi-fi available. Imagine that! Andy had a satellite phone and could often be seen on deck, holding it high, hoping for a connection. And so it was, seconds after pointing out the polar bear, I heard him announce, a little surprised: 'We've Brexited'. Polar bear. Brexit. Those two concepts collided in my mind. Incomprehensible.
Over the next few days we spotted more and more yellow blobs. As we got nearer to them, they grew into the magnificent giants of the wilderness that I had so often imagined. As the Stockholm nestled in the ice, the curious bears came closer, noses in the air, sniffing our human scents, scanning the mysterious shape of our ship. We were strangers in their world.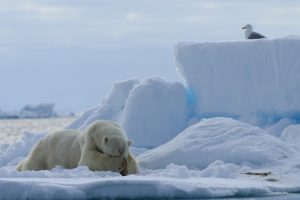 As well as seeing the polar bears from the deck of the Stockholm, we went out in the zodiacs. On one of our first outings we saw a polar bear on a small iceberg eating a seal. The light was perfect and more iconic shots were captured. I'm glad to say we missed the grisly death of the seal.  As ever with wildlife kills, you have to remind yourself that it is the natural order.
Over the next few days we saw 14 different bears. With some visiting us more than once, we had well over 20 encounters. Thanks to the number of seals around, the bears were all well-fed. They looked healthy, a mix of power and beauty.  But as we know, all is not so well. A combination of climate change, pollution and the continued hunting of bears (especially in Greenland and Canada) is taking its toll. We'd seen for ourselves the receding ice. Polar Bears are officially deemed to be 'vulnerable'. Only we humans can change that.
Distant news
Talking of humans, what was happening with Brexit? Some of our group had voted to Leave, the rest to Remain. We chatted about it from time to time, without rancour. But it was only too easy to imagine what nastiness was playing out back home. It was strange not to be getting 24/7 coverage of this momentous event. The accusations and counter accusations, lies and denials, bleak predictions.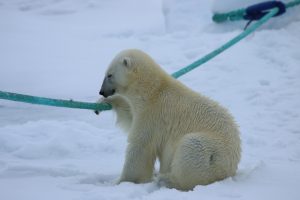 Andy shared with us his short daily updates. One-liners such as 'Cameron has resigned', 'Corbyn vote of no confidence' and 'No sign of Boris'. Interspersed with the football results: The English Nightmare, The Welsh Dream. Extraordinary events all unfolding, whilst around us the ice creaked and cracked and the polar bears went about their daily lives. Muscle-bound. Majestic. Yet seeming cuddly and cute as they covered their eyes with giant paws when asleep, or playfully tugged at the ship's bowline. Unware of climate change. Oblivious to Brexit. Indifferent even to the FTSE 100.
At this time of year it doesn't get dark, so our days had little structure. Yes, we had breakfast, lunch and dinner, but there was never any real sense of the day ending. We'd go to bed in bright daylight, waiting to be awoken for the next sighting. Looking forward to Adam banging on the door, calling 'Polar Bear approaching'. At this we would scramble into our thermals, grab our cameras and clamber back on deck. Ready to scan for those yellow blobs. Once we even saw two yellow blobs, approaching from different directions. Two females briefly greeted each other, just yards away from us, then ambled apart,  on their separate journeys. Such a meeting is a very unusual event – another special memory.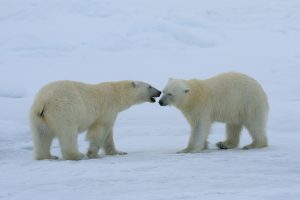 A different world
The polar bears were just as likely to be active at night as during the day. Being on their agenda took us another step from our normality. While we anxiously analyse the hours and minutes – recorded in manic selfies, relayed via social media – the polar bear is guided by the seasons. Is it summer or winter? Now was summer, constant light and lots of seals. Winter is dark and different.   In the winter, females construct dens in the ice where they give birth to their cubs, and nurture them in a state of semi-hibernation, going for months without food.
One of the highlights of this amazing trip was seeing inside such a den. It was long-abandoned and due to disintegrate in the thaw. We took it in turns to take a quick look inside. There it was: a carved-out cave, signature claw marks across the ceiling. A big space. But above all it was silent and incredibly calm. I could picture the mother bear, blubber and fur protecting her from those freezing temperatures, sleeping through the dark days, as her cubs suckled in safety. The perfect way to survive the winter. A true achievement.
The polar bears were magical, but the trip wasn't only about them. The icy scenery was utterly spectacular too.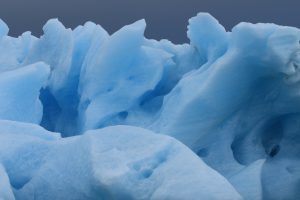 Then, as we moved back south, we were entertained by the walruses. In my enthusiasm for polar bears I hadn't thought about walruses, until Andy and Adam introduced them.  What a treat they were. We'd go out in the zodiac boats and once we saw a walrus we'd sit and wait, engine off, at a safe distance. Walruses live in groups, and when they spotted us a little gang would gather and come towards us. They'd rear up out of the water, take a look and pass on by.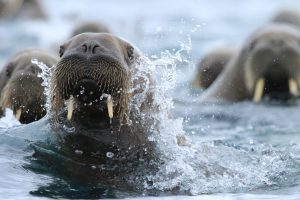 They were happy and playful, often prodding each other with their long tusks. We saw dozens of them and they were a joy to watch – whether diving in the sea or dozing on the land.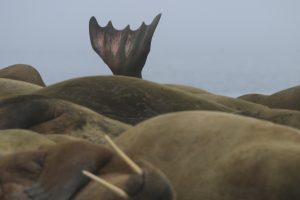 Back at home
And so we made our way back to Longyearbyen, our memories – and camera cards – overflowing. Wondering what was happening back home. As soon as we reconnected with those invisible signals we were on our phones, texting family and friends, waiting for news. A few weeks before we went away my 16 year old cat, Rosie, had been diagnosed with cancer. Although she was OK when I left, I had been worried about her. The early updates were promising, so I turned my attention to more worldly matters. Murray was doing well at Wimbledon. As for our leaders: Gove had 'knifed Boris in the back'– symbolically, I assumed, and Corbyn continued to teeter. We eagerly devoured the details on the homeward stretch. How ridiculous it all seemed, especially from a distance.
Finally, I got home to find that, sadly, Rosie had suddenly and seriously declined. Within an hour I was on the way to the vet where she was put to sleep. As I gradually re-entered our world, so–called civilisation, the disorder continued. Resignations.  Racist murders. Turbulent markets. Then terror in Nice and turmoil in Turkey.  The pain of parting with a much-loved pet added to this sense of unease.
The loss of Rosie mattered far more to me than the loss of Remain; inevitably we focus on what's closest to home. But that's no reason to blot out the broader picture. All our actions have a lasting impact. How we behave towards each other, not just about Brexit, but well beyond. In fact, all the way up to the Arctic. That very special place where the mighty polar bear rules, and silently roams. Out of sight, but not out of mind.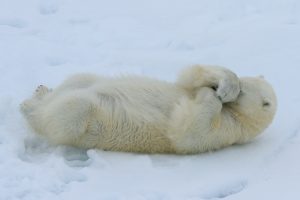 Thanks!
This was a truly fantastic trip and I have many people to thank:
Andy Rouse, wildlife photographer (http://www.andyrouse.co.uk), and expedition leader, Adam Rheborg. They worked tirelessly to find the animals and make the most of every sighting – and always with respect for the welfare of the animals.
The Captain and crew of the MS Stockholm who made it all possible.
My very old friend Jane Addey (http://www.janeaddey.co.uk) who invited me to join her on this trip, and all our excellent travelling companions – it was great spending time with every one of you.
Jackie Rado ( http://www.jackieradophotography.com) who helped get my photography into shape, ready for this one-off experience.
Emma, Charlotte, Andy and Bernadette for looking after Rosie (and Gus).
The polar bears and walruses. For being there. Let's hope you survive.
---
© Allison Hill, 2017 (including photos)