Enjoying Local Nature in Lockdown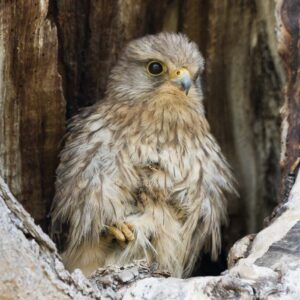 'Sitting on a jeep at sunrise, watching a giraffe reach into a tree to munch on leaves.' My usual answer to the question, 'What have you missed the most this year?' 'Oh yes, and seeing the sea.' Of course, I miss friends and family too, but at least I can see them on Zoom.
Over the last few years, I've had the pleasure of seeing the lemurs of Madagascar, the Big Five in the Masai Mara, those amazing polar bears and other wildlife wonders.  2020 was to be no different, with a trip to Sri Lanka booked. But along came COVID-19, and everything changed.
Walks in the Park
When Lockdown 1.0 began, I decided to keep fit by taking regular walks in my local parks: Bushy Park and Home Park. I have often explored these spaces and always enjoyed the experience. But, to be honest, as they are on my doorstep, I've seen them as secondary to the real treat: watching wildlife in far-off countries. Lockdown shifted that view.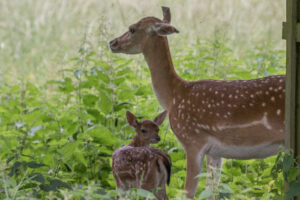 I quickly began to appreciate my local walks far more. Over the weeks I witnessed the changing seasons – the blossoming trees, the longer and lighter days, and the annual animal arrivals. I was soon looking out for my own favourites: swans, rabbits, deer and herons.
At first, I walked without my camera. On wildlife holidays I spend all day taking photos, hundreds each day. But my camera is quite cumbersome, so I tend not to take it on local walks – that's what mobile phones are for. Then a friend of mine, Susan Waters, created a WhatsApp group to share photos of what we were seeing in Lockdown. People were soon posting daily photos, everything from flowers to foxes. I was hooked, and firmly back in safari mode, heavy camera in hand.
One day in Home Park, I met up with two close friends with whom I have shared many wildlife adventures. They too were enjoying local nature. Keen bird spotter, Sue, pointed out a kestrel close by. It was nesting in the bough of a dead tree and was clearly in search of food for its chicks. We watched in delight. I added the kestrel to my list of favourites. Now I had my own Local Five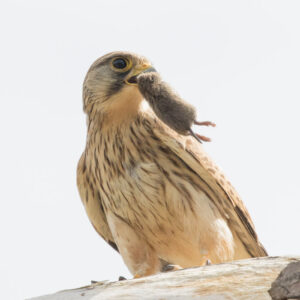 I returned to that spot a few times, and one day met up with another friend to observe the kestrel. Jane is an avid wildlife photographer, so we happily spent five hours watching and waiting. Our patience was rewarded, as we both got great shots of the kestrel taking its catch back to the nest. This ranks as one of my best wildlife photos and I got it just a mile or so from home.
On the days when I was observing the kestrels, passing people often asked what I was photographing. Some knew about the kestrel and told me about their recent sightings. Friendly chats with the locals – definitely a first!! It was great to see so many people finding time to enjoy the nature that lives right next to them.
In a pond near the kestrel tree is a swan's nest. Another pleasure was counting the eggs (eight), seeing the tiny cygnets emerge, then watching them grow and develop. However, having so many humans nearby did not please the swan parents. Mr Swan became very protective. One day a family and their dog got a bit too close and Mr Swan made his views known. The human mother didn't get the message and went right to the water's edge to get a closeup of the nest. Mr Swan rushed across and bit her firmly on the bottom. Sadly, my camera was not at the ready!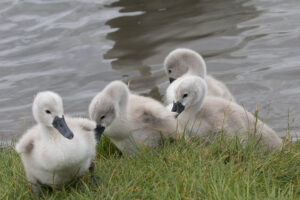 Leaving aside such memorable events, it was lovely just to wander around and appreciate everything, seeing things grow and change as the weeks went by. I even downloaded the Seek App to find out – and record – exactly what I was spotting.
I also began to listen more. Many people have mentioned the absence of planes and being able to appreciate the sound of the birds and the bees and anything else that makes a noise in nature. How sad that we had not heard all this before.
Knepp Rewilding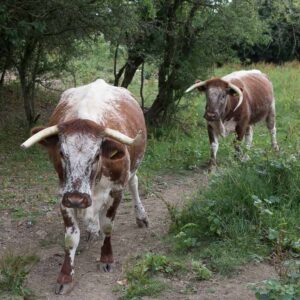 Knepp Wildland in West Sussex is a leading light in conservation through its rewilding project. Allowing nature to take its course, a mix of herbivores graze the land as they would have thousands of years ago. It is now home to a vast range of birds, butterflies and more – biodiversity at its best.
Well before Lockdown, another good friend, Julie, had booked for six of us to stay there for a few days in July. Luckily, Lockdown 1.0 ended just in time for us to take up the booking. A wildlife holiday in the UK! It was a delight to spend a few days there together. Just like on safari, we had the excitement of wondering what we would see next: those rootling pigs, longhorn cattle, or perhaps the famous storks.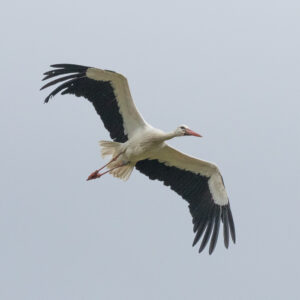 Plus, there was the fun of camping (well, glamping in glorious yurts) and the thrill of having a shower outdoors – something I hadn't done for many years.
One of many Knepp highlights was a dusk walk. Thanks to our guide's 'bat detector' (a wonderful concept!) we could track any bats in the vicinity. Again, just stopping, looking and listening were rewarded with so much. I shall certainly return, and hopefully see the beavers who are next in line to be reintroduced.
Having those few days away in the English wild was great. Sadly, another planned break – a trip to see rewilding in Scotland – was cancelled. So, I spent the rest of the year at home.
Then the Kittens Came
When my last cat, Gus, died in October 2019 aged 20, I decided to mourn him for a while before seeking another feline companion. Then I decided to wait until my kitchen refurb was complete. Thanks to COVID-19, it was July 2020 before the coast was clear for a cat. As before, I wanted to house a rescue cat (maybe a three or four-year-old), but I couldn't easily get one. Due to Lockdown, they were in short supply. Even my friends were helping with the search. Then I came across Here for Cats who suggested I might want to take on two kitten brothers. They needed to be rehomed together as one of them was rather meek and would benefit from being with his bolder brother. I didn't take much persuading.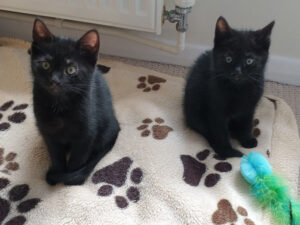 The kittens moved into their new forever home on July 25th, aged 8 weeks. I called the bolder brother Muswell. After much contemplation, and further suggestions from friends, I named 'the meek one' Alfie. They are almost identical in looks yet have totally different temperaments. This is fascinating and again reinforces the intricacies of animal sentience.
Over the last few months, I have watched Muswell and Alfie grow and explore. They are fast and strong and have amazing reactions – their footballing skills are second to none. They think and work things out. Muswell is curious about all cupboards and happily jumps into the fridge the instant I open it. They already understand lots of words – with the notable exception of 'No'.
Muswell has a cuddle for every occasion and Alfie is gradually getting warmer. Being on my own throughout Lockdown, I value their company immensely. I have been reminded, yet again, of the pleasure we get from our animal companions, domestic or wild. And what we owe them.
Looking Forward
Over the past year, I have spent many other hours sorting through my collection of wildlife photos. More great memories. Muswell and Alfie enjoy looking at them too. We also like watching wildlife programmes on TV and there have been some fabulous productions.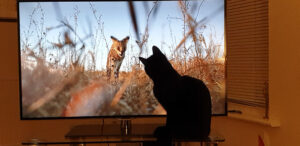 One programme that sticks in my mind is My Octopus Teacher: so moving and further proof that our fellow beings are not 'dumb animals'. Another delight was being kindly invited by WWF to hear (via Zoom) David Attenborough talk about his witness statement, 'A Life on Our Planet'. As always, Attenborough demonstrated the utter wonder of nature. He also presented the grim reality of the state of the planet, plus some positive pointers on what we can do about it. These are messages that many others, notably Greta Thunberg, have reinforced over the past months. During Lockdown we've all had time to listen – next we need to act.
I have seen the Big Five so many times I was almost getting complacent about such safari sightings. No more. Now I truly appreciate how special it is to see wildlife, and how easily we could lose these unique creatures. Not least as we have yet to comprehend what coronavirus could cost the communities who surround and protect their natural domains.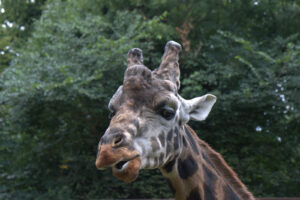 If I am ever lucky enough to find myself back in a jeep, gazing at a giraffe tugging away at those leaves, my joy will be grounded in gratitude. Meanwhile, I plan to spend Spring revisiting my Local Five. With warmth, excitement and a camera at the ready.
 Links:
You can read about my other wildlife watching trips on this website: www.allisonhill.com/category/wildlife
More of my photos are on Instagram: www.instagram.com/allihill.ah/
Here for Cats: www.hereforcats.org
Knepp Wildland in West Sussex: www.kneppsafaris.co.uk/
See Jane Addey's great photos here:  www.janeaddey.co.uk/
Thanks to:
My friends Angie, Bernie, Betty, Dilys, Emma, Jane, Julie,  Susie D and Susan W for sharing these experiences.
Hayley at Here for Cats for suggesting I take on 2 kittens and WWF for inviting me to hear such a great talk.